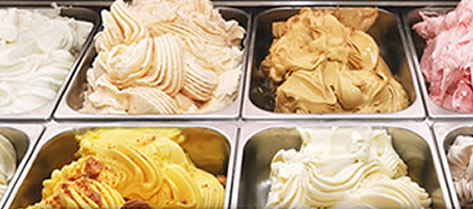 Professional course to become an Ice Cream Make
This course is taught by Maestro Palmiro Bruschi, the Italian ice cream champion
Ice Cream Maker course objectives
This professional course teaches the techniques and methodologies for the production and selling of Italian artisanal ice cream. Course subjects will include: the components of ice cream, the chemistry and physics behind ice cream making, balancing principles, decoration, fruit and vegetable cutting, as well as marketing, communication and business management. On completion of the course, participants will be able to produce and sell a wide range of different artisanal ice cream varieties.
Find out how to apply for the Ice Cream Maker course now!
Key skills
an Ice Cream Maker needs to:
know well the raw materials for the preparation of ice cream (milk, egg, fruit, sugar, flavourings, etc.)
know how to measure and mix ingredients
know how to use instruments, refrigeration systems and machinery for ice cream making
have creative and manual skills
be accurate in decorating products
understand the law regarding a correct conservation and transformation of ingredients and products
understand laws regarding health, hygiene and work safety
How to become an Ice Cream Maker in Italy
There is no specific qualification for becoming an Ice Cream Maker, but to start a career in ice cream a professional training course is recommended. Only after maturing a good amount of professional experience is it possible to start a business. Constant updating is a must for this trade, and those who practice this profession must always be on the lookout for new recipes and suggestions for clients.
Become an Ice Cream Maker with the Scuola di Cucina
The Ice Cream Maker course at the Scuola di Cucina lasts for 3 months in total. It is divided into 1 month of theoretical lessons and practical classes, and a 2-month practical working experience period at a sector-related business.
Theoretical lessons: with expert teachers who don't just teach but also work as professionals in the sector
Practical lessons: to consolidate knowledge acquired during theoretical lessons. Students are fully supported by teachers and acquire essential practical skills.
Practical working experience: this important part of the course is held at a business within the sector and allows students to put into practice all they have learnt during lessons, giving them in addition valuable experience to add to their professional CV.
There are no formal academic entry requirements for this course. However, you need to be at least 18 years old and have a B1 Level* of English to access the course.